Foster connection, trust, respect and collaboration between people from different backgrounds.
Many organizations are realizing that diversifying hiring is not sufficient to create a work culture that allows individuals to bring the most creative and productive aspects of themselves to the table.
Without transforming work cultures to make them genuinely inclusive, companies can struggle with retention and promotion of individuals who come from groups historically underrepresented in corporate sectors.
Allyship is a commitment to learning how to achieve equity and inclusion that's distributed throughout the structures and workforce of an organization.
It's powerful because it gives workers from majority groups concrete tools they can use to support their colleagues from underrepresented groups. Combining qualities of friendship and mentorship, allyship brings together empathy and listening with an awareness of your own knowledge, skills, and connections within an organization, so that you can help unlock the potential of others.
More and more, individuals from majority groups want to be allies but don't necessarily know how.
Channeling two decades of experience in education, directing, and group dynamics, Dr. Michael Hunter will work with your organization to create a tailored training program that addresses the specific needs of your organization and demonstrates ways in which your employees can activate their potential as allies.
In designing and implementing the Allyship training, Dr. Hunter can…
The training can take the form of a single workshop or an ongoing program. 
It can be designed as a stand-alone or integrated with other programs at your organization, such as a mentorship program. In addition to his expertise with groups, Dr. Hunter has substantial experience working with online platforms such as Zoom to provide strong interactive remote training and workshop experiences.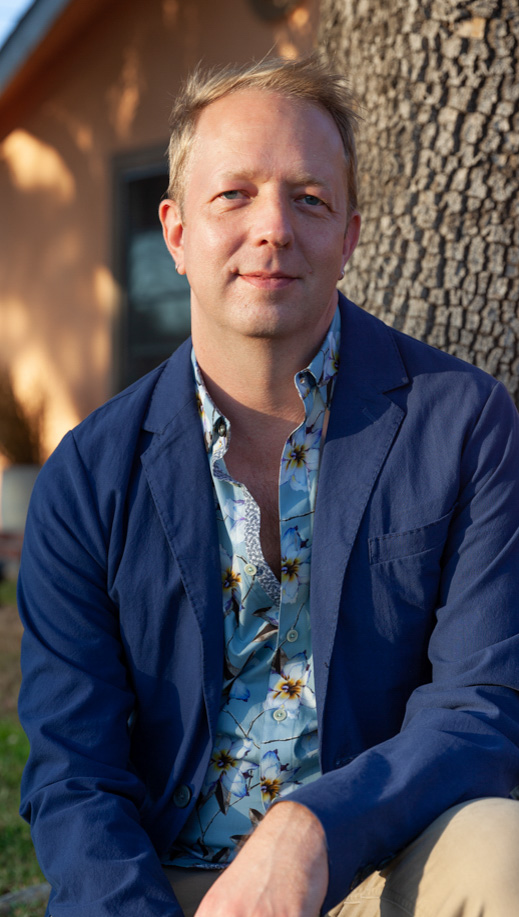 Dr. Michael Hunter is an educator, facilitator, director and writer living in the Bay Area and Los Angeles.
He has an MA in Literature from the University of Edinburgh, Scotland, and a PhD in Drama from Stanford, where he was subsequently a Post-Doctoral Fellow in the Humanities.
For the last twenty years he has taught courses and led workshops, many of them focused on race, gender, and sexuality. In 2019 he decided to begin applying his skills and experience to allyship work with organizations; his first and ongoing client was Stripe, followed by clients such as Blue Shield of California and Pinwheel.
"I grew up in a small town in the Panhandle of Texas, and by my early twenties I had lived and studied in London, England and Edinburgh, Scotland, as well as come out as a gay man. Through these experiences, I learned the importance of maintaining my connections to my past and the communities that nurtured me, even as I grew and changed in ways that sometimes made that challenging.

My formation as an ally started there — I learned to listen to, empathize with, and speak to people who were increasingly different from me. As I talked to the people I'd grown up with about issues and perspectives that were unfamiliar and even threatening to them — such as reparations for African-American enslavement or transgender rights — I developed ways of making space for people to feel their views were being acknowledged and respected, even as they were being asked to open themselves to new kinds of information or encounters.

As a graduate student at Stanford, this kind of dynamic and challenging work with groups continued, as I was hired to guide a multi-racial class of students through an African-American Studies lecture series, and then to assist and finally teach numerous courses on race, gender, and sexuality.

My work since then with students in the classroom — exploring important and delicate questions of identity in the context of 21st-century America — has been a training ground for the work that I'm now doing with companies and organizations. My commitment to allyship continues to grow every day, and nowhere is this more relevant and effective now than in company and organizational structures."
"Michael was phenomenal to work with. With twenty years of facilitation experience and subject matter expertise, I was not surprised to find that the workshop was thoughtfully designed and highly impactful for the employees who participated. What did surprise me, though, was how dedicated Michael was to collaborating as a true partner from day one, designing the workshop from the ground up to meet the specific needs of our organization, conducting a pilot run and iterating based off feedback, and continuing to redesign and update the program even after our session wrapped. In my many years doing diversity, equity and inclusion work, I've rarely worked with someone who is so skilled at making space for others to be candid, humble, and compassionate towards themselves and others while learning deeply about challenging and essential topics. You're in excellent hands."
Dr. Lily Lamboy, Leader, Diversity, Equity and Inclusion Team, Stripe
"Michael was incredible to work with, and delivered a valuable allyship training for our team. His approach is unique, and he spent the time to design a training tailored to the needs of our organization, iterating through multiple rounds of feedback. His unique approach made for an engaging, valuable workshop that made our team think deeply about privilege and how it plays into our day-to-day, and gave tactical skills for us to use to become better allies. I would highly recommend working with him!"
Tess Bloch, Chief of Staff, Pinwheel API
Testimonials from workshop participants
"I can't stress enough how valuable and great this was. I would take the course again as a refresher."
"Thinking through privilege in the context of work this way, and having thoughtful conversations with coworkers, was great."
"I learned that there is no one-size-fits-all model of allyship. Even something that I considered very simple, like being an empathetic listener, can make a big difference when trying to be an ally."
"I had never considered how leveraging my network is a way to create opportunity and connection for my mentee. I'm excited to put this new learning into practice."
"I really enjoyed this. Michael was a very good teacher and kept the energy levels high."
"This was SUPER helpful and a chance to have conversations I don't think I've had elsewhere… I really love going through scenarios like these and discussing them."